Good Night, Switzerland: A homesick project
11/30/2021
Goodnight Switzerland: a homesick project
Here is the sun going down
and here are the children,
ready for bed…
I have lived abroad for many years, and haven't been homesick for Switzerland once. Apart from the chocolate, I didn't miss it much; never longed for mountain chalets, Edelweiss flowers or Thomy mustard; didn't pine for family and friends. Based in the UK, I could always return to my hometown Berne within hours if I needed to.
...And here is the Aare
looping around
the city of Berne...
And then, in Spring 2020, came COVID-19 with its lockdown horror, and homesickness struck like an avalanche. I felt an overpowering longing and nostalgia for my family, for the silence on a snow-covered peak, and a slab or Gruyère cheese. I looked at pictures of the Matterhorn at sunset, slate-covered mountain chalets, double-decker trains. Once, I even listened to the song Heimweh ( i.e., 'homesick') by Swiss band Plüsch.*
...And the Matterhorn blushes deep pink
just as the first stars appear...
And just at that moment (oh serendipity!), my publisher in Switzerland offered me the chance to be as nostalgic as I liked, and to write about all that was wonderful about my country by writing Goodnight, Switzerland, the Swiss answer to Goodnight Moon.
In Goodnight, Switzerland, we meet wise old Owl, silently gliding over the country at sunset, wishing good night to everything she sees: the Matterhorn, the marmots, native trees and birds, the chocolate factory, and even the little street sweeping machines scrubbing away. Not to forget the goats and cheese.
...The goats bleat one last time
and lie down
one
on top
of the other,
while the Emmental cheese sits in the dark,
dreaming of growing the largest, roundest holes...
Illustrated by the talented Mattea Gianotti, this book is a declaration of love to the beauty of Switzerland, and will give pleasure to sleepyheads big and small.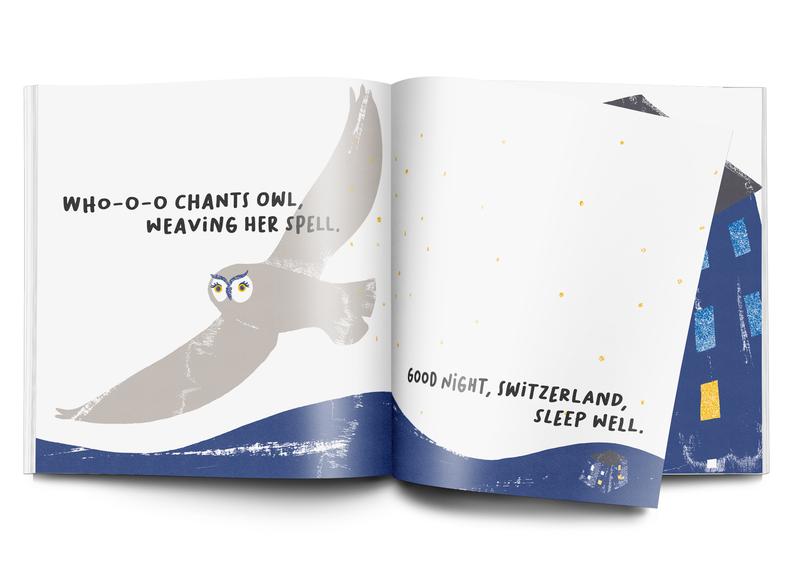 Who-o-o chants Owl, weaving her spell
Goodnight, Switzerland, sleep well.
Goodnight, Switzerland, written by Anita Lehmann, illustrated by Mattea Gianotti : available in English, German and French in bookshops, and online here:
- auf Deutsch: Gute Nacht, Schweiz (helvetiq.com)
- en français: Bonne nuit la Suisse (helvetiq.com)
- in English: Good Night, Switzerland – Bergli
(*really, no pandemic is bad enough to justify this terrible song, but then we are living in strange times, right? You can listen to it in its full glory here (in Swiss German))